Yubo Review
Yubo is essentially a socializing platform for teens, tweens, and young adults, unlike many dating sites. The app allows users aged 13-25 to sign up, but most features and explicitly saved for 18+ users. Although it doesn't advertise itself as one of the dating sites, many teens' end-up pursuing relationships since dating is one aspect of socializing.
Most users aren't looking for dating or hookups here, but few high-schoolers are willing to give Yubo the chance to act as a matchmaker.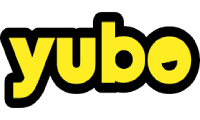 Yubo Sign in/Sign Up
Signing up is relatively easy on. Upon downloading the app, you can either login into your account or sign up to make a new one. In the signup process, you'll have to add your:
First name
Birthdate
Gender (male, female, or not specified)
Upon adding the necessary details, you'll then be asked to upload a profile picture. This step is mandatory and cannot be skipped, or else you can't proceed further. There aren't any strict guidelines on what should and shouldn't be kept as a profile picture.
Suppose you aren't using your own picture. You'll be requested to upload an original image at a later stage. Following this step is:
Pick a username
Password (needs to have 8 characters, 1 number, 1 lowercase, 1 uppercase, 1 special character)
You'll need to add your phone number, or else you can't proceed; the phone number won't be visible to anyone. You'll receive a code on your phone. That'll be the verification process.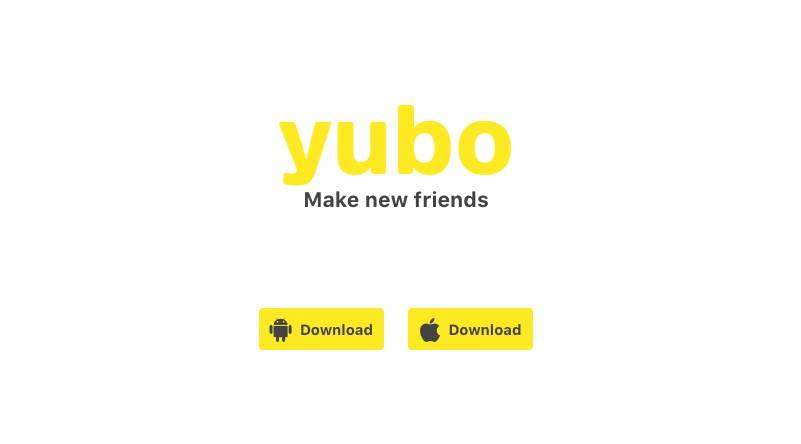 Member Structure
Most profiles of Yubo are those of teens or people in their early twenties. The vibe across the platform is friendly. The acceptable age applicants are of 13-25 years, but the accounts on the app are mostly belong to 21-25-year-olds.
There's a relatively even distribution of girls and boys with the girls at 49% and boys at 51%. There are approximately 200,000 profiles on the app.
Matchmaking on Yubo
Since Yubo isn't a dating platform, there isn't any specific matchmaking algorithm in place, but there does exist some form of suggestion, and it's based on three criteria under the "swipe" section, that are:
Distance: by giving access to your personal location, you allow Yubo to match with people closer to you.
Live streaming: on the main screen, multiple live streams are on-going. This feature allows you to join the live stream and connect with people within the live stream.
Friends: The friend only message mode lets you limit your contact to people on your friend's list.
There are multiple ways of making contact with other profiles on the app, through means of messaging, joining live streams, and more of which include:
Streaming: most users connect and get in contact via streaming. A stream is usually based on a topic and allows up to 10 streamers and unlimited users to join the stream as viewers.
Chatting: like most social platforms, Yubo offers users a simple messenger interface where you can exchange messages within a personal chatroom.
Profile Quality
All profiles on Yubo are verified, which is great. The strict verification criterion doesn't allow any scam profile to pass, all profiles have usernames with original profile pictures. Besides the general picture, name, age, and location, there isn't much you can tell about the profiles since there isn't a description area on the profile and any other such feature.
Yubo App Review
Yubo is known as a mobile socializing app and doesn't have an interactive website. The app is available on both Android and iOS and is free to download. The app has a very clean layout, which makes it easy to use, with the most dominant and eye-catching element being its "yellow" theme.
The site exists, by the way. But users cannot use it to contact other members. The desktop website contains information such as FAQs, a little know-how of the app, and important information such as terms & conditions and privacy policy.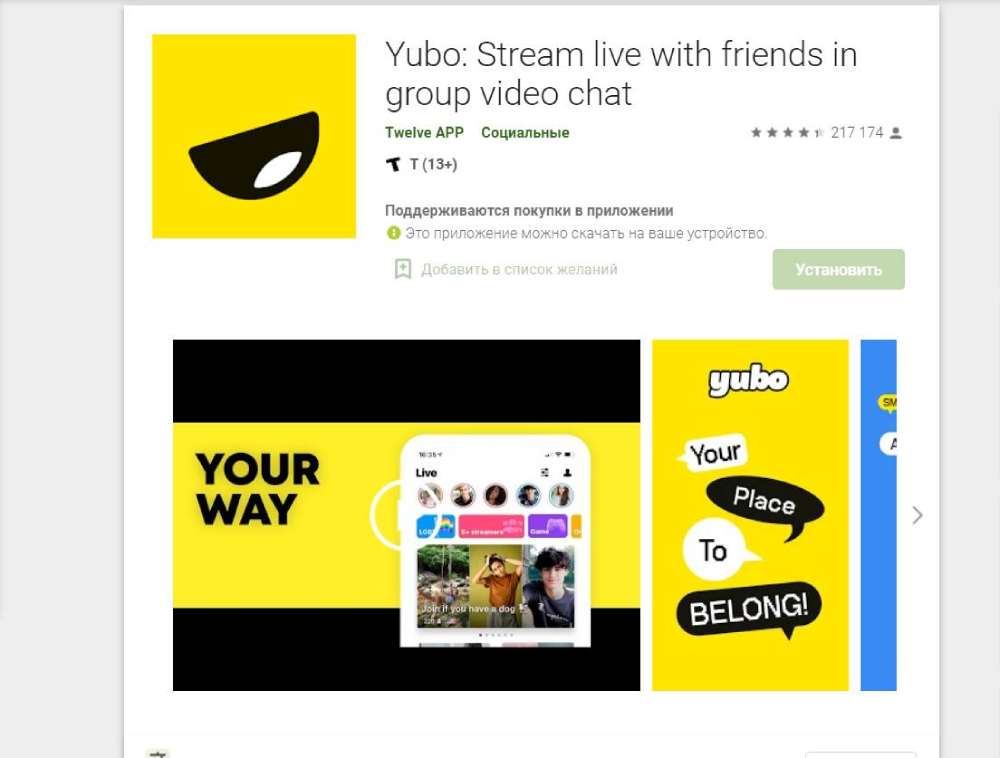 Design and Usability
Prior to rebranding and renaming itself, Yubo was formerly known as "Yellow," very true to its main theme and color. The website's overall design is very clean and easy to navigate. All options are clearly visible, and font sizes are also very friendly.
The main features are prominently placed at the bottom of the screen as a menu bar. There are several ways of initiating contact and finding people to socialize with. Yubo is known as the "Tinder" for teenagers due to its similar swipe feature, but the app itself doesn't make any claims of being a matchmaking platform.
The swipe feature on the Yubo app is better designed as it doesn't have any wait time and criteria of being swiped right by the other users. You can simply begin messaging once you've swiped as the user is added on as a friend on the profile.
The only downside to the app is its lack of connectivity feature. It doesn't let you link your profile to your Facebook to make the signup process easier; however, even without Facebook, registration itself isn't a tedious process and takes less than 5 minutes.
Special Features
There are a number of unique features for users to avail themselves of on the Yubo app. The most common are communication features, such as:
Live streaming: one user acts as a host, and nine more users can join the as streams while the rest of the participants can act as a viewer and interact on the app. The streaming feature allows the members to connect by chatting and playing games.
Chat: personal chat feature also exists where you can initiate your very own personal chat with a friend or user.
Swipe: the swipe feature is very similar to that of Tinder (or any hot or not game, essentially), but the users don't have to wait for a "match" and can begin chatting instantly.
On top of this, Yubo has two interfaces based on the age of the registered profile. One of the two categories includes a community space for 12-18-year-olds and the second one provides space for 18+ users.
Security and Support
The security and support feature on Yubo is one of the best we've seen. The platform doesn't let any user continue the profile creation without a valid phone number or a profile picture that can detect facial features.
Yubo has a strict community guideline in place that provides details on how users need to behave and treat fellow community members. There is a "parent permission" checkbox for underage users that calls for parents to tick the box indicating their willingness to let their child on the app.
Profiles pretending to be older or younger than their actual age get taken down with the help of Yubo's special AI face recognition software. Users can opt-out of sharing their live location, so there's less of a privacy breach concern. The report feature is also available to flag any profile that goes against the community guideline.
If any additional assistance is required, Yubo also has a dedicated customer support service available, which you can contact by emailing on support@yubo.live.
Costs and Prices
Yubo is developed for the purpose of free chatting and communication. The primary aim of the website is to serve as a socializing platform; hence the app requires no form of financial investment to be able to use certain features.
There is no distinction in the feature for "free" and "paid" membership, which makes Yubo and enjoyable socializing platform that doesn't force users to compete.
Yubo Cancellation
Cancellation on Yubo isn't available since there isn't any paid membership package. Hence under no circumstance are users obligated to pay anyone. If you're approached by an account pretending to be a Yubo staff member, report it immediately.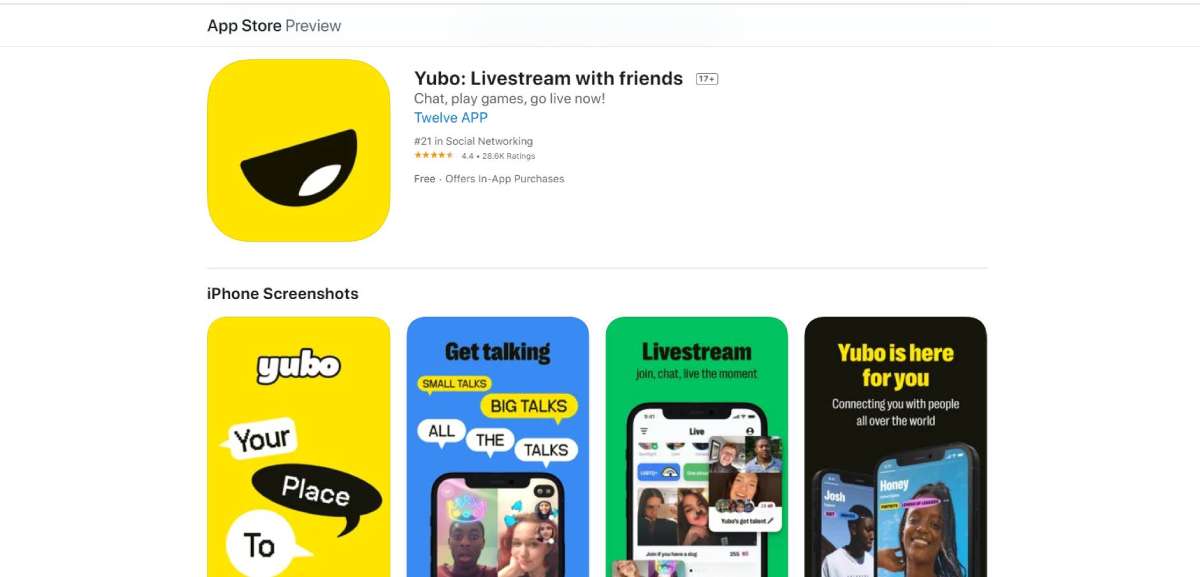 ---
Experts Conclusion
It is the creative socializing platform for teens, tweens, and young adults; we wouldn't recommend it so much for dating since Yubo doesn't claim to be a dating site, and it is something all Yubo reviews should mention. But it is safe for the kids and everyone else to use, so if it's your cup of tea – go for it. The app is free to download and is slowly but surely growing in popularity.
The app is very interactive and doesn't just let users chat but also combines gaming to make the socializing experience more unique.
---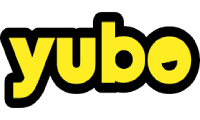 Yubo.com
FAQ
Who Owns Yubo.live?

Yubo.com was previously operated under the name "Yellow." Yubo is run in France by TWELVE APP since the year 2015.
Is Yubo Legit?

Yubo is a legit socializing platform, many people have left reviews with concerns of fake profiles, but that's a danger present on every platform. However, Yubo provides many features through which users can ensure their safety.
Can I Block Another Yubo Member?

Yes, and the process of blocking members is easy. To block a profile, you'll first have to go to their profile, click on the "?" sign on the top-right corner of the screen, where you can unfriend, block or report the user.