POF Review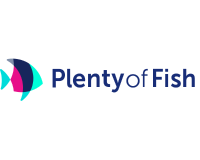 Pros
It's free to join this app, upload your photos and details, match with singles or couples, and send messages to other users.
The site connects you with singles in many countries, not just the U.S.
Enjoy a smaller version of this dating service on the mobile app.
Some people will find serious relationships, and others use POF for casual dating or hookups.
In doing my POF dating site review, I tested the registration process and it's easy. You include your name, date of birth, gender, and dating preferences, such as whether you will date a smoker, a drinker, a parent, or a member with a BBW body type.
The chemistry test is optional. It helps you find more compatibility with other locals. It takes ten to twenty minutes to answer all the test items.
You can block members from contacting you. Nothing is stopping them from creating a different profile and trying to message you again.
Cons
Join to access features such as seeing when someone was last online and if they read your messages.
Log on to the desktop version to delete your account.
In this POF app preview, I learned many users are attached and seeking activities outside of their primary relationships.
Scammers are more likely because this is a free site. It's also common for profiles to be hacked.
Users pretend to be someone they are not. If you report them, they just open another account and resume their activities.
POF Reviews
Angela Sanchez - "Plenty of fish is easy to use! I was seeking someone near me who could go dancing on Friday and Saturday nights. I met many users and made a few friends too."
Brianna Minkowitz - "The best part about POF is that you can search for users within any geographical distance. I found a boyfriend on the West Coast, and it was a long-distance thing for a while, but we moved in together, and, now, I'm expecting a baby."
George Yamamoto - "There were some crazy girls on this site, which made it entertaining. I took my time and found a Filipino girl the same age for a long-term partnership."
Can I trust POF?
Take your time with dating sites and see what kinds of communications you get. POF has a variety of serious-minded people, serial daters, hookup lovers, and scammers.
If you get to know people first, you will gather enough information to decide if you should meet in person.
Is POF right for guys?
POF is the right online dating site for guys who don't want to pay for membership. If you upgrade to a premium account, see who is logged on to the site and when they read your messages.
See if your messages were deleted without being read, which helps you manage your time better. Don't message people who ignore you or take days to respond. They aren't interested.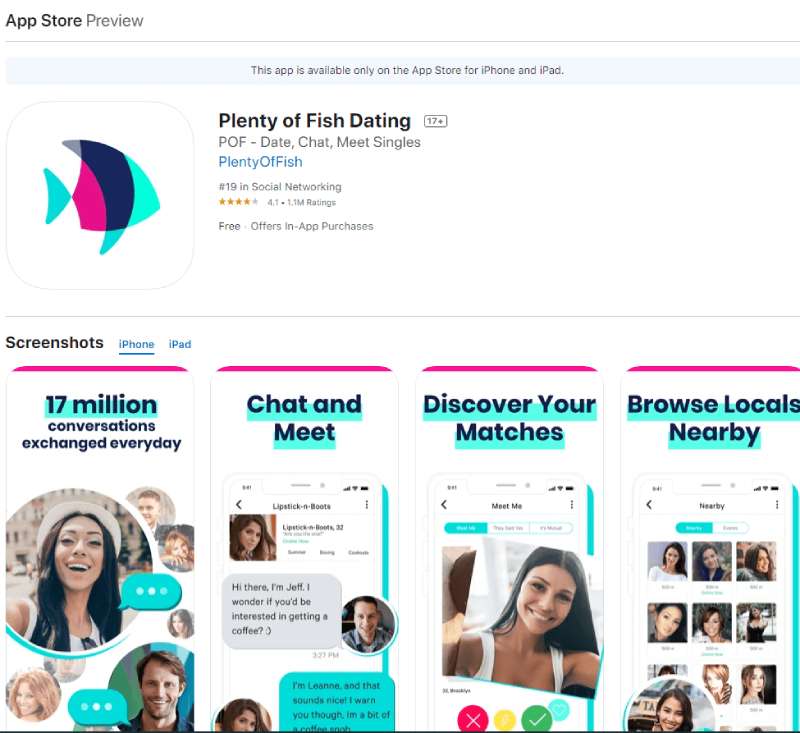 How to Become a Member
Pick a username. Share your email address, date of birth, and other demographic information and lifestyle preferences. You cannot change your age after you join.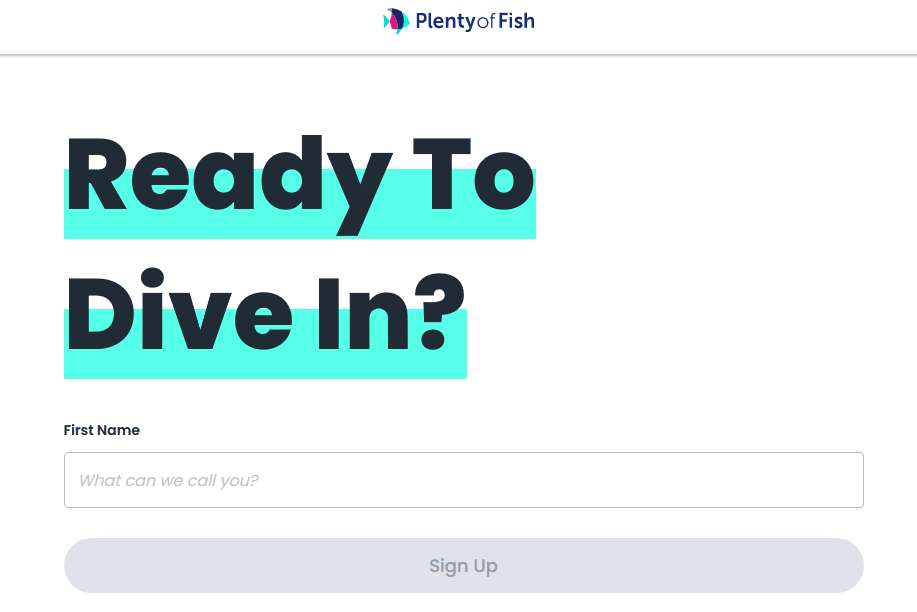 Matchmaking Services on Plenty of Fish
Take the Chemistry Test and view your matches. Find adults who just joined, adults nearest your zip code, and adults who respond the most often to new emails.
This site has a proprietary formula to generate matches, including birth order and your parents' marital status.
Quality of User Profiles
Some profiles have a long essay and want to fall in love with "the one," and others are boilerplate blurbs about liking live music, beaches, going to fancy dinners, and watching sports.
Take every profile at face value and evaluate how the messaging makes you feel. Is it worth meeting?
Using the App
Just like Facebook, please don't ignore red flags. Don't post information to your Plenty of Fish profile that you don't want everyone on the Internet to see.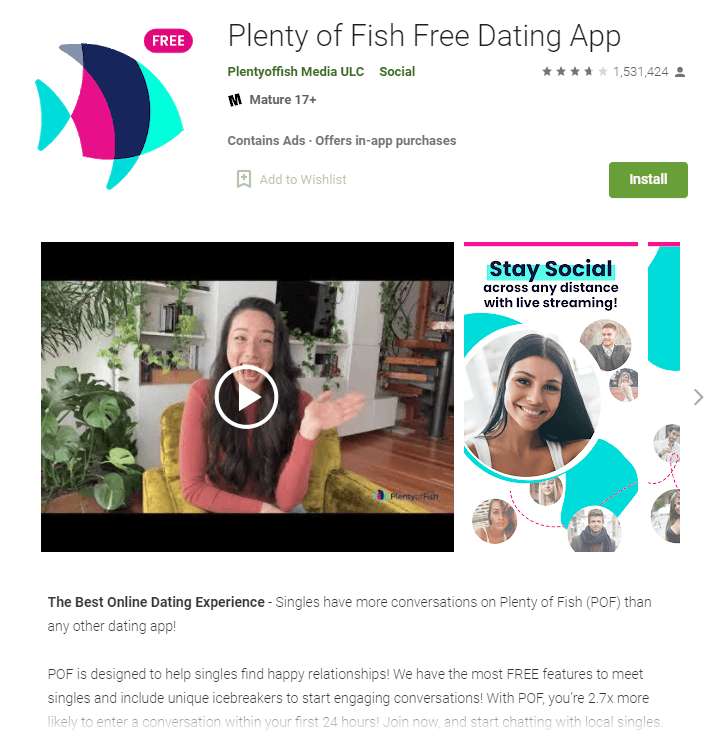 Navigating the Site
This site is easy to click around after completing the registration questions, including your dating preferences.
Its layout means you are always presented with users currently online, even when you chat with one person. This is distracting at times. The mobile version is easier that way, so consider this an endorsement in the POF app review.
Cost of POF Services
It is free to join this app. Upgrade to a premium membership for as little as $9.99 per month for an 8-month subscription.
Purchase a 2-month subscription for as little as $19.35 per month.
Additional Features
Pay for options such as showing up first in the Meet Me section (where users swipe left or right on your picture, age, and location), viewing every member's extended profile, getting more profile views and emails, and viewing the entire site or app without advertisements.
Site Security
Your information is moderately safe. People will try to scam you, hack your account, and/or use your pictures in fake profiles.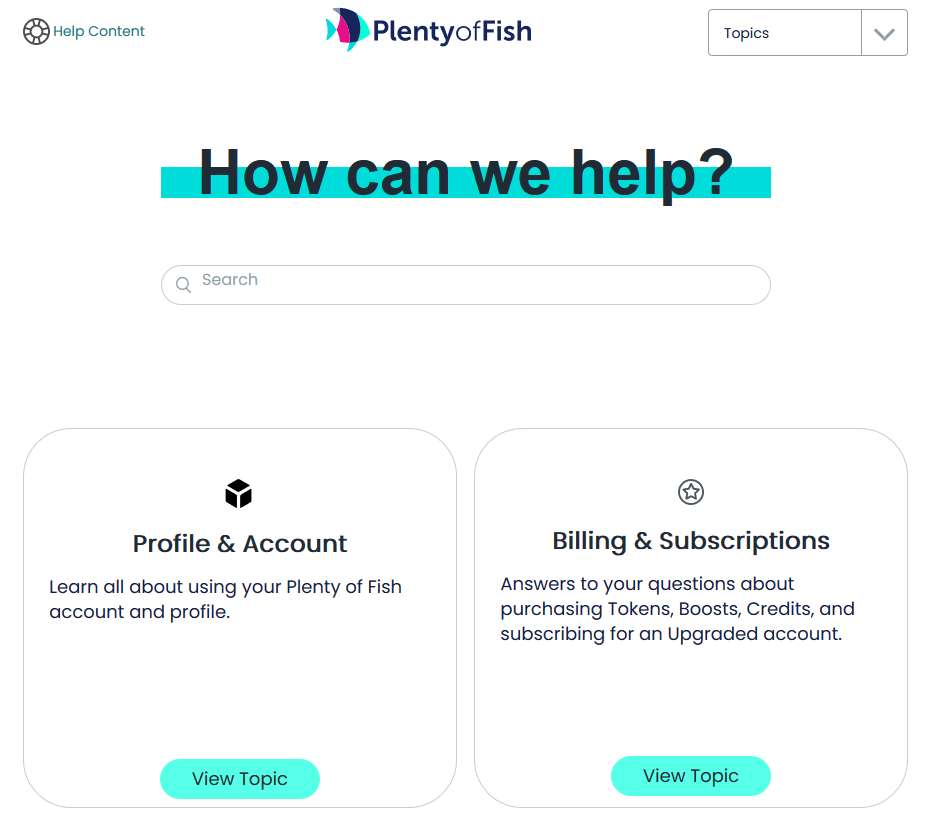 Should You Join POF?
For guys, if you don't mind a few daily contacts from scammers and sex workers, so to speak, this site is great for finding dates. Guys work a little harder to find dates because women get bombarded with emails.
---
Expert`s Conclusion
This comes from experience: I used this site to find a boyfriend so this POF dating site review may be a bit biased in a positive way. I had dozens of dates until I found my future husband.
Yet, I felt there were many nights when I wasted my time chatting online. Still, you learn to sift through member conversations when they just want casual experiences.
---
Which is better: Tinder or POF?
POF is better for finding detailed profiles and long-term relationships. Tinder is better for finding hookups after exchanging a few messages.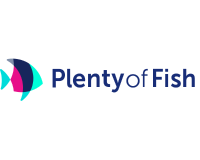 POF
FAQ
How do I restore my POF member profile?

Make your profile hidden in the Edit Profile section. You can unhide yourself anytime.
How do I get upgraded at no cost on POF?

Research this in a search engine and select a special promotion.
How do I retrieve deleted emails on POF?

This feature is not part of free membership. Also, if someone blocks you, you can view the history of what you said to them, not their messages.